All Smiles Mornington Peninsula Sorrento Beach wedding – James Harvie Photography
All Smiles Wedding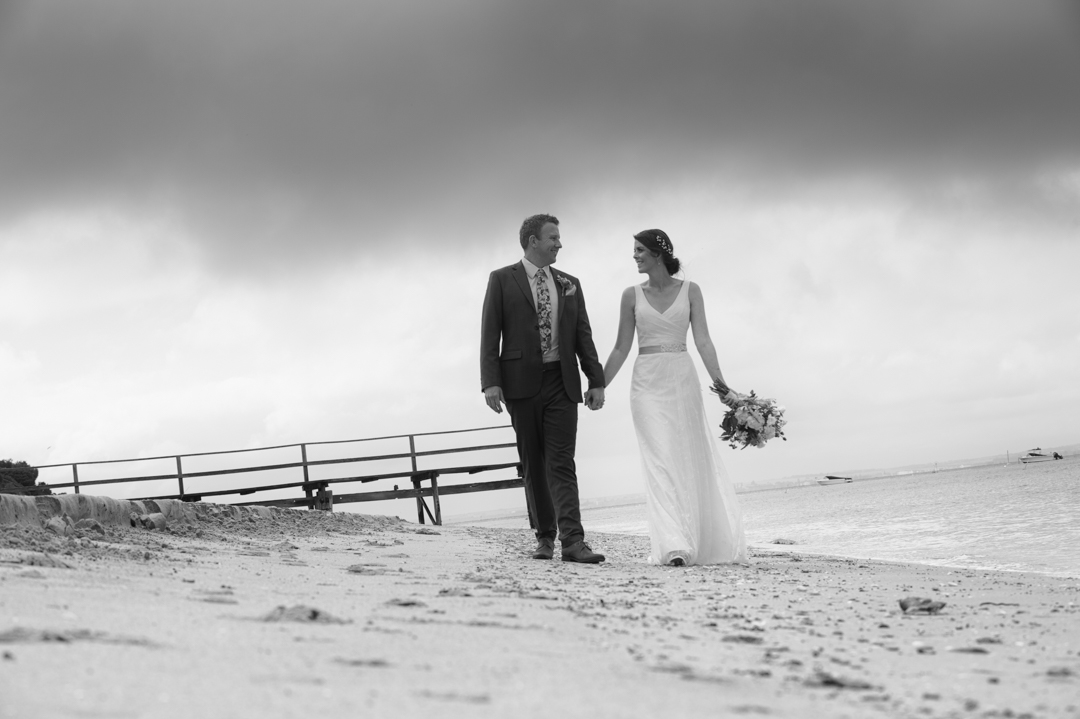 Unlike most weddings I Photograph on the Mornington Peninsula my couple were quite happy to meet up before the actual ceremony for their location wedding Photo shoot.
We arranged to meet down at Shoreham, which has to be one of my all time favourite Mornington Peninsula wedding locations. It's one of those spots that lend itself to creating those stunning Fine art wedding images.
On the day luck had it that the forecast was for the highest rainfall in 20 years and we were also promised Decembers total rainfall average in a matter of hours.
Sure enough within 10 minutes of leaving the studio the rain decided to pelt down. It was so heavy that I literally could not drive any faster than 60kms in a 100km zone.
Instant panic struck me as to how I was going to manage any photography. So I pulled over called my couple and warned them. They were over in Sorrento and commented there was only light drizzle. So we decided to stick with the plan.
Twenty minutes later I arrived at our meeting point and to my astonishment the rain disappeared. The great thing about shooting over Shoreham way is often the weather can be quite the reverse to other parts of Melbourne. For instance on a 40-degree day with the right conditions it can be a mild 28 degrees over here.
It was a smallish bridal party just 4 people in total, which would help with photography time. I know this area so well and had in my mind the key shots I wanted to grab. That's a good advantage you have via experience photographing weddings across the Mornington Peninsula.
After a good hour of shooting down at Shoreham we then headed back over to one of the secluded beaches in Sorrento, which is just made for photography. The pathway down towards the beach has been cleared a little which is a shame as I love to frame my wedding clients underneath the gorgeous Tea Trees. It's great to use the trees to frame your wedding photography and I love to deliver very natural raw wedding images. My couples just love them.
This particular front beach in Sorrento has numerous cute little jetties. The beautiful thing about Jetties is they offer leading lines, which help pull the viewer into the images. Jetties help make perfect wedding photography composition.
Generally when I am photographing a wedding I have my key shots, which I need to cover. Once these are completed I can concentrate on getting the creativity really flowing. I am constantly hunting for lines, angles and quirky kind of props. This is what sets photography apart from the mundane seen it before shots.
It's interesting during the wedding location shoot, as over time you can see your client begin to loosen up and work with the camera. Everyone is quite different and most couples really don't like the camera. So down at Sorrento Beach I love to use my long zoom lens. This creates really shallow depth of field or put more simply blurred out background. This way you have the focus on the couple or bridal party rather than the background.
So with the Location shoot wedding images completed it was off to All Smiles for the ceremony. Now conditions began to deteriorate as light drizzle began to form.
This kind of weather is very hard for photography as the moisture flies around in the wind and yep lands on your lens. I made my client aware of the unfavourable conditions. I really believe its best to involve your client as much as possible in the images. Communication and rapport are just so important.
With the All Smiles ceremony over next up was the big group shot. This image is awesome as a centre page spread in your wedding album. The albums we design are fine art albums made right here in Australia. I help design a template album for you and then together we tailor it exactly to your taste. I can give you many gorgeous covers ranging from Leathers, Acrylics, woods, suede and fine art pages on amazing archival papers.
With the group photos over we moved into All Smiles famous Cocktail reception. Don't tell anyone but I love this part as I get to sneak a few bits of scrumptious food. Kat is very generous. I think she feels I need fattening up. Okay so lets focus on photos. Cocktail style wedding celebrations are wonderful for photography because you find all the guests feel more comfortable to roam and talk with whom they want to. It's a more relaxed style atmosphere, which is conducive to those fly on the wall type images. I love to give you more spontaneous low-key images at this part of the day. Using a long zoom lens with shallow depth of field (oh that's me getting technical again) achieves brilliant results.
So with a bit of wet start to the day all ended up fine. In fact I love the images. Oh and before I end. It pays to invest in some Golf style umbrellas.
Suppliers:
Dress Yaly Couture
Shoes: Midas
Hair: Breanna Jade Makeup